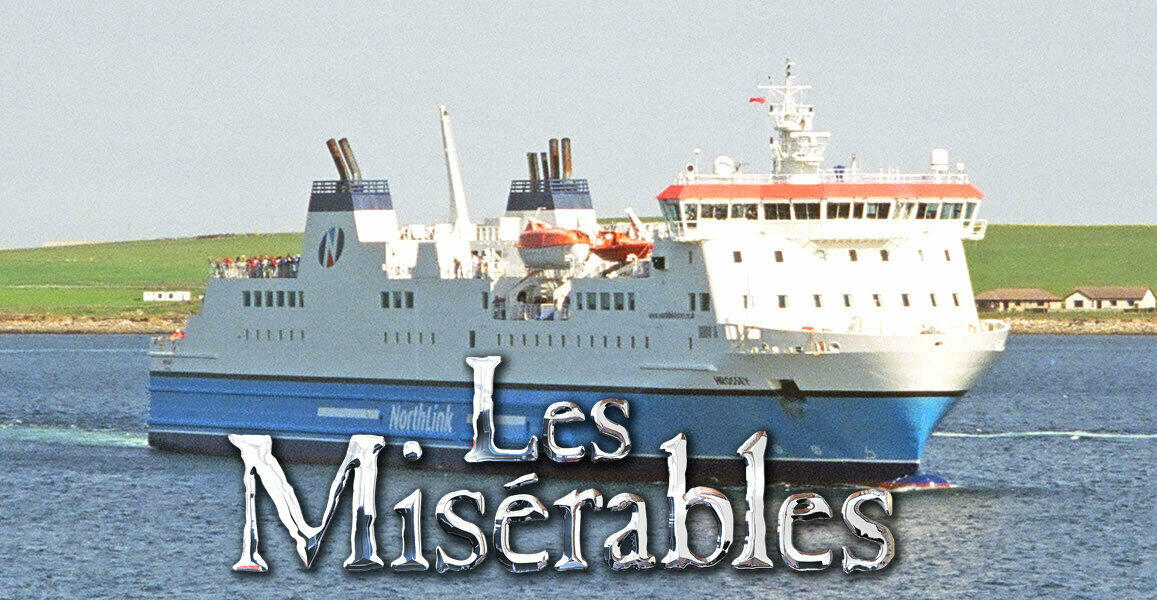 One Day More (To Aberdeen)
VALJEAN
One day more
Another day, another destiny
This never-ending boat to Aberdeen
The men with which a share this bunk
Will surely turn up blazing drunk
One day more
MARIUS
I did not get a room today
Could I get one once we've departed
VALJEAN
One day more
MARIUS & COSETTE
Tomorrow we won't stay awake
Because we're stuck with these recliners
EPONINE
One more day until I'm home
MARIUS & COSETTE
Will we ever sleep again
EPONINE
Too much fog to fly from Sumburgh
MARIUS & COSETTE
And there were no 2-berth rooms
EPONINE
What a flight I might have known
MARIUS & COSETTE
So we'll just have to make do
EPONINE
But the plane just couldn't leave
ENJOLRAS
One more day before the storm
MARIUS
Will the boat get in on time
ENJOLRAS
It's a force 9 south-easterly
MARIUS
Will we have to leave at 3
ENJOLRAS
When the weather starts to form
MARIUS
But I have onward travel plans
ENJOLRAS
Will we get stuck in Orkney
ALL
The time is now, the boat is here
VALJEAN
One day more!
JAVERT
One more day until the mainland
Then we carry on by car
It's a family excursion
But I'll be drinking at the bar
VALJEAN
One day more
M. & MME. THENARDIER
Watch 'em run amuck
Catch 'em as they fall
Children roam the Northlink
like a free for all
Games in the arcade
No restraints as such
Most of them have parents
But they don't do much
STUDENTS (2 Groups)
1: One day till our Christmas shopping
2: Union Square is beckoning
1: We can get a Burger King
2: Or maybe get KFC
1: We should take back some Krispie Kremes
2: If we're not feeling too sick
ALL
Do you hear the people spew
MARIUS
My place is here, I vomit too
VALJEAN
One day more!
MARIUS & COSETTE
I did not get a room today
EPONINE
One more day until I'm home
MARIUS & COSETTE
Could I get one once we've departed
JAVERT (overlapping)
I will join the people drinking
I'll down Tennant's by the pint
I will overstay my welcome
And I'll try to start a fight
VALJEAN
One day more
MARIUS & COSETTE
Tomorrow we won't stay awake
EPONINE
What a flight I might have known
MARIUS & COSETTE
Because we are stuck with recliners
JAVERT (overlapping)
One more day until the mainland
Then we carry on by car
It's a family excursion
THE NARDIERS (overlapping)
Watch 'em run amuck
Catch 'em as they fall
Children roam the Northlink
like a free for all
VALJEAN
Tomorrow we'll be far away
Tomorrow is the judgement day
ALL
Tomorrow we'll discover
What the Scottish Mainland has in store
One more dawn
One more day
One day more